Bases For Rifles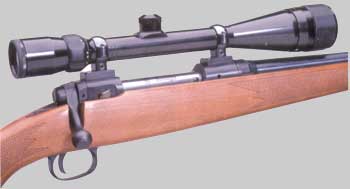 Lynx offers a large range of steel bases suitable for different models of rifles and revolvers. PLEASE NOTE that "SM" prefix denotes aluminium.
Two piece bases allow easier cartridge loading access. One-piece bases provide greater rigidity and a parallel platform on hand-worked actions. Extended bases solve eye relief scope mounting problems caused by compact scopes on long actions.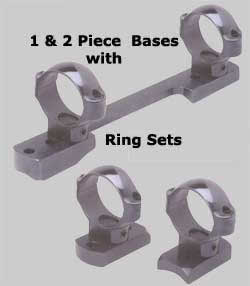 Lynx bases are made of lightweight steel machined from solid bar stock. The studs locking the rings to the bases withstand shock forces of more than 4,400lbs
"H" Bases use a Hex Key to lock the Dovetail clamps.
"N" Bases use a QD Nut to lock the Dovetail clamps.
"L" Bases use a Lever to lock the dovetail clamps.
Anschutz
Baikal
BSA
Browning
Carl Gustaf
CZ
Dovetailed .22 & Smallbore
FN Bases (refer to Mauser)
H&R
Heym
Howa
Krico
Mannlicher Schonauer
Marlin
Mauser
Musgrave
Omark
Parker Hale
Remington
Rover
Ruger
Sako
Sauer
Stevens
Savage
.303 Lee Enfield (S.M.L.E) Sporter - Refer to Parker Hale
Springfield
Steyr-Mannlicher
Tikka - T3
Titian
Voere
Weatherby
Weihraugh Mod HW 66
Winchester
Zastava
Anschutz
| | | |
| --- | --- | --- |
| (Fits all common .22 small bore actions) | 3/8 (10mm) Dovetail QD 2P (May be reversed for better eye relief with Target scopes) | 1842H |
| Anschutz Screw on | 2P | 1837 |
Baikal
| | | |
| --- | --- | --- |
| 11mm to picatinny rail 120mm Long | 1P | SM002 |
| 11mm D/T to picatinny/weaver rail 150mm Long | 1P | SM7015 |
| CF2 & Monarch | 2P Ext | 4051 |
BSA
| | | |
| --- | --- | --- |
| CF2 & Monarch | 2P | 1839 |
| CF2 & Monarch | 2P Ext | 4051 |
| BSA big bore 2 pce base fits 19mm d/tails | 2P | 1234 |
Browning
| | | |
| --- | --- | --- |
| A Bolt SA (.223, 22/250, .243, .308, 7mm-08, .257R) S/S | 2P | 1856 |
| A Bolt LA/SA | 2P Ext | 4053 |
| T bolt screw on | 2P | 1837 |
Carl Gustaf
| | | |
| --- | --- | --- |
| 1600 (Mark X, Zastava, Parker Hale Safari, etc.) | 2P | 1835 |
CZ
| | | |
| --- | --- | --- |
| 527, FOX (.22H, .222, .223, and early Model 1 .22's with 14mm dovetails) | 2P | 1918H |
| 537 SA (.243, .308)CZ550 & ZKK 601 (.223, .243 & .308) | QD 1P (Detatchable Mag use M.A. Base) | 1815N |
| 537 SA (.243, .308)CZ550 & ZKK 601 (.223, .243 & .308) | Hex 1P (Detatchable Mag use M.A. Base) | 1815H |
| 537,CZ550 & ZKK 600, 601, 602 | Hex 2p | 1909H |
| Picatinny Rail Zero MOA 111.5mm (all steel) | 1p | 1816PR |
| Picatinny Rail 601 SA 132mm | 1p | 5092 |
| Picatinny Rail 550 Mid Action 140mm | 1p | 5093 |
| Picatinny Rail 550/602 LA 155mm | 1p | 5094 |
| Fits All CZ Dovetails 14-16mm | 2p | 1956N |
Dovetailed .22 and Smallbore
| | | |
| --- | --- | --- |
| General Purpose 9.5 - 11mm 3/8 Dovetail. (May be reversed for better eye relief with target scopes) | QD 2P | 1842H |
FN Bases (refer to Mauser)
Heym
Howa
| | | |
| --- | --- | --- |
| SA/LA | 2P | 1839 |
| Picatinny Rail | 1p | 6077 |
| Picatinny Rail 150mm 20-MOA SA | 1P | 4301 |
| SA/LA | 2P EXT | 4051 |
Krico
| | | |
| --- | --- | --- |
| 700 (All Series) (6.5x55, 7mm R Mag, 30/06, 8x68) LA | 1P | 1922 |
| 600, 700 (All Series) LH/RH, LA/SA | 2P | 1913 |
| 600, 700 (All Series) LH/RH, LA/SA | 2P Ext | 4056 |
Mannlicher Schonauer
| | | |
| --- | --- | --- |
| Mannlicher Schonauer, Undrilled (Gunsmith Base) | 1P | 2923 |
| Mannlicher Schonauer (Requires front reciever ring to be drilled and tapped M5) | 1P | 1923 |
Marlin
| | | |
| --- | --- | --- |
| Marlin MR7 30.06, 270 | 2P | 1839 |
| Marlin 39A Lever action .22 | 1P | 1830 |
| Model 336, 94 - accepts weaver rings , Aluminium | 1P | SM5536 |
Mauser
| | | |
| --- | --- | --- |
| 1996 Straight Pull (New Model) | 2P | 1839 |
| 96, M38 6.5mm x 55 Ex-Military (Requires 0.300" rear hole spacing, action to be D/T 6-48) | 1P | 1802 |
| 96, M38 6.5mm x 55 Ex-Military (Requires 0.300" rear hole spacing, action to be D/T 6-48) | 2P | 1931 |
| 96, M38 6.5mm x 55 Sporter (For Sporter Deluxe, charger guide removed, action to be D/T 6-48) | 1P | 1930 |
| 96, M38 6.5mm x 55 Sporter | Undrilled 1P | 2930 |
| 98 Ex-Military | 1P (Requires action to be drilled and tapped 6-48) | 1809 |
| 98 Ex-Military | 2P Ext(German Drilling, Requires action to be D/T 6-48, 10mm Rear hole spacing) | 1935 |
| 98 Ex-Military | 1P (FN drilling .500 Rearer holes) | 1929 |
| FN (Zastava Mark X, Carl Gustaf 1600, etc) | 2P | 1835 |
| 98 UNDRILLED Zero MOA | 1P | 5082 |
| 98 UNDRILLED 20 MOA | 1P | 1809PR |
Musgrave
| | | |
| --- | --- | --- |
| Model 90 Mini/Light/Standard/Std | 2P | 1834 |
Omark
| | | |
| --- | --- | --- |
| Omark Rail Picatinny 20 MOA Steel | 1P | 2606M |
| Omark 7.62mm LH/RH (Action must be drilled and tapped 6-48) | 1P | 2218 |
Parker Hale
| | | |
| --- | --- | --- |
| FN & Spanish action (Mauser FN, Zastava Mark X, Carl Gustaf 1600) | 2P | 1835 |
| M82 | 2P | 1835 |
| Safari Deluxe 2 pce base fits 19mm d/tails | 2P | 1234 |
Remington
| | | |
| --- | --- | --- |
| REM 783 (Silver finish) | 2P | 2339AC |
| REM 783 | 2P | 1839AC |
| 700, 40, 78 (CMC Howa, Weatherby V & Vanguard) LA/SA | 2P | 1839 |
| 700, 40, 78 (CMC Howa, Weatherby V & Vanguard) LA/SA | 2P Ext | 4051 |
| 600, 660, & NO.7 | 1P | 1828 |
| 4, 6, 7400, 7600 | 1P | 1829 |
| 788 (.222 Mag, .22/250, 30/30) LA | 1P | 1805 |
| 7600,7400,7615 Aluminium Weaver base | 1P | SM5504 |
| REM 700 SA Picatinny Rail 20 MOA 160mm | 1P | 7304 |
| REM 700 LA Picatinny Rail 20 MOA 180mm | 1P | 7305 |
| REM 700 SA Picatinny Rail Zero MOA | 1P | 7306 |
| REM 700 LA Picatinny Rail Zero MOA | 2P | 7307 |
Rover
Ruger
| | | |
| --- | --- | --- |
| M77 & M77 Mark II RH (.223, 220S, 22-250, .243, .308) SA | 1P | 2221H |
| M77 & M77 Mark II RH (.223, 220S, 22-250, .243, .308) SA | 1P Stainless Steel | 2321H |
| M77 & M77 Mark II RH (25/06, 7mm R Mag, .300 W Mag, .338 W Mag) LA | 1P | 2222H |
| M77 & M77 Mark II RH (25/06, 7mm R Mag, .300 W Mag, .338 W Mag) LA | SF 1P | 2322H |
Sako
| | | | |
| --- | --- | --- | --- |
| 461, 579, 61R | Hex Clamping 2P Ext | 2P | 4055H |
| 461, 579, 61R | Hex Clamping 2P | 2P | 1940H |
| Picatinny Rail LA Zero MOA | | 1P | 5088 |
| Picatinny Rail SA Zero MOA | | 1P | 5086 |
| Picatinny Rail LA 20 MOA | | 1P | 6090 |
| Picatinny Rail SA 20 MOA | | 1P | 3034 |
Sauer
Stevens
| | | |
| --- | --- | --- |
| SA/LA Blue | 2P | 1839AC |
| SA/LA Stainless Steel | 2P | 2839AC |
Savage
| | | |
| --- | --- | --- |
| Long action models 110, 111, 112, 116 (Older Model Only) | RH LA 1P | 1832 |
| Long action models 110, 111, 112, 116 (Older Model Only) | RH LA 1P - Stainless Steel | 2832 |
| Long action models 110, 111, 112, 116 (Older Model Only) | RH & LH LA 2P | 1838 |
| Long action models 110, 111, 112, 116 (Older Model Only) | RH & LH LA 2P - Stainless Steel | 2338 |
| Long action models 110, 111, 112, 116 (Older Model Only) | RH & LH LA 2P Ext | 4041 |
| Long action models 110, 111, 112, 116 (Older Model Only) | RH & LH LA 2P Ext - Stainless Steel | 4050 |
| Short Action Models 10, 11, 12, 16 (Older Model Only) | RH SA 1P | 1833 |
| Short Action Models 10, 11, 12, 16 ACCU TRIGGER (New Model Only) | RH & LH SA 2P | 1839AC |
| Short Action Models 10, 11, 12, 16 ACCU TRIGGER (New Model Only) | RH & LH SA 2P - Stainless Steel | 2839AC |
| Model 340 Side Mount accepts Weaver Rings | 1P Aluminium | SM4460 |
| Picatinny Rail Sav LA Zero MOA | 1P Steel | SM110L-F |
| Picatinny Rail Sav SA Zero MOA | 1P Steel | SM110S-F |
| Picatinny Rail Sav SA 20 MOA 160mm | 1p Steel | 6102 |
.303 Lee Enfield (S.M.L.E)
| | | |
| --- | --- | --- |
| S.M.L.E. I, II, III (.303) | 1P (3 Base holes must be drilled and tapped 6-48 on centre axis) | 1814 |
| S.M.L.E IV, V (.303 Jungle Carbine) | 1P (Must be drilled and tapped 6-48 on front reciever, M3 on cross bar) | 1954 |
| S.M.L.E MK IV MK V - Side Mount no Drill/Tap, accepts Weaver Rings | 1P Aluminium | SM8564 |
| S.M.L.E. MK I, II, III - Side Mount no Drill/Tap, accepts Weaver Rings | 1P Aluminium | SM8565 |
Sporter - Refer to Parker Hale Midlander
Springfield
| | | |
| --- | --- | --- |
| 1903-A3 - No Drill No Tap Weaver Alum | 1P | SM8477 |
| M1A1/M14 - No Drill No Tap Weaver Alum | 1P | SM8514 |
Steyr-Mannlicher
| | | |
| --- | --- | --- |
| Steyr-Mannlicher (M, & ST) | 2P | 1925 |
| Steyr-Mannlicher (M, & ST) SBS / Pro Hunter | 2P Ext | 1855 |
| Steyr-Mannlicher Professional | 2P | 1925 |
| Steyr-Mannlicher (SL&L) (.222, .223, 5.6x50 Mag, 5.6x57, .243, .308) | 2P | 1924 |
Tikka - T3
| | | |
| --- | --- | --- |
| M55, M558, M590 & M65, M658, M690 Screw on | 2P | 4042 |
| T3 - Dovetail Base | 2P | 1918H |
| Picatiny Rail all models Zero MOA 170mm (only fits Tikka T3) | 1P | 5098 |
| Picatiny Rail all models 20 MOA 170mm (only fits Tikka T3) | 1P | 6099 |
| T3 - All Models Screw On | 2P | 4042 |
| Fits all Tikka Dovetails | 2p | 1956N |
Titian
| | | |
| --- | --- | --- |
| Titian by RWS | BLUE | 1839AC |
| Titian by RWS | S/S | 2339AC |
Voere
| | | |
| --- | --- | --- |
| Titan II All models 2156, 2165 | 2P | 1835 |
Weatherby
| | | |
| --- | --- | --- |
| MK XXII - New model 22 cal rifle - Fits 10mm dovetail | 2P | 1842N |
| Vanguard SA Picatinny Rail 1500mm 20 MOA | 1P | 4031 |
| Vanguard SA/LA | 2P | 1839 |
| Weatherby MKXXII screw on | 2P | 1837 |
| Vanguard LA Picatiny Rail 20 MOA | 1p | 6077 |
Weihrauch
| | | |
| --- | --- | --- |
| Model HW66, 22LR, 17 HWR, 22HT, .222 | 1P | 1824H |
| Weaihrauch HW66 screw on | 2P | 1837 |
Winchester
| | | |
| --- | --- | --- |
| 70 SA (Featherweight, Lightweight, Ranger | 1P | 1803 |
| 70 SA/STD | 2P | 1834 |
| 94, (30/30, 7-30 Waters) Angle eject | 2P | 1848 |
| Win 94 1894 - Fit into repair sight | 1P (aluminum) | SM4094 |
Zastava
| | | |
| --- | --- | --- |
| Zastava Mauser LA | 2P | 1835 |