Quick Change Bases
Quick Change Bases for Rifles and Revolvers
This system provides a Quick-Change, return to zero mounting system for most popular rifles and revolvers.
These hardened steel bases acceps Tikka, CZ527 & Fox Ringmounts or Lever Ringmounts.
Scope and rings can be removed and replaced without tools or the need for re-adjustment. An integral recoil stop prevents movement under the most severe recoil.
Open sights can be used with mount bases fitted to rifles.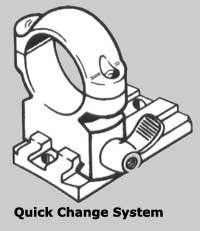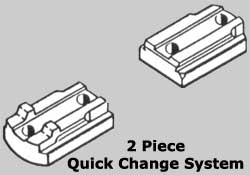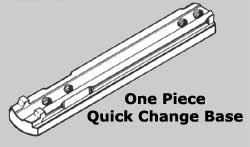 Quick Change Bases For Rifles & Revolvers.
| | | |
| --- | --- | --- |
| Browning A Bolt LA/SA | 2P | 7855 |
| Browning BLR & BLR Lightning L/A | 1P | 7810 |
| Browning BLR & BLR Lightning S/A | 1P | 7340 |
| Marlin 1894 | 1P | 7826 |
| Marlin 1895-336 | 1P | 7818 |
| Mauser96/38 Ex-Military | 2P | 7931 |
| Mauser 98 Ex-Military | 2P Ext (German drilling - 10mm rear group) | 7935 |
| Remington 700, 40, 78 LA/SA | 2P | 7839 |
| Remington 700 LA/SA | 2P Ext | 7051 |
| Remington 600, 660, & No.7 | 1P | 7828 |
| Remington 4, 6, 7400, 7600 | 1P | 7829 |
| Savage 110 (Older Model Only) | 2P | 7838 |
| Steyr Mannlicher SBS / Pro Hunter | 2P | 7855 |
| Weatherby V Vanguard (&CMC Howa) LA/SA | 2P | 7839 |