Lynx 10x56D Scope

Newly released from the Lynx stable is the P10x56D Professional monotube series scope. It is a straight 10x with 56mm objective, and a fast dioptre style focusing ocular housing. The new scope is very similar in nature to the Lynx 8x56. It has rather large turrets that are bigger than the 8x56, with target style adjustments, with a knurled ring and scale on each turret. I found these easy to adjust and very precise. The scope is very large at 363mm (14.25") long, the objective lens is 64mm (2.51") exterior diameter, the ocular housing is 45mm (1.78") in diameter. Field of view is 3.34m (11 feet) at 100 yards.
I am not that much in favour of such large scopes as they make the rifle too ungainly, especially in a hunting situation,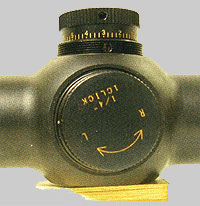 (above) Turrets of the 10x56 lynx, note the scale and also that they are 1/4" clicks written on top of the turret. The knurled rings allow for easy grip when adjusting the scope.
where you may have odd angles to shoot through where the rifle has to he held on a rest not as steady as a bench, however, if you want a big scope, there has to be a compromise.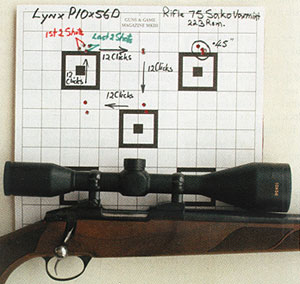 (above) The Lynx P10x56D Note the four of tyhe five shots into 0.211".
To shoot the big Lynx, it was mounted on a Sako 75 in .223, the first 3-shot group at 100 yards was 0.2". I preceded to carry out our normal scope test which is a 5-shot group, which came in 0.456", four of the five shots went into 0.211", and shows that this scope has plenty of potential. The crosshair intersection is fine, though still thick enough to be good on game. For round the target test, I chose 12 clicks, which should be 3-inches. It was that close to 3-inches, there was nothing in it. The four shot group resulting from the first two and the last two shots was a whisker over 0.5", testament to the accuracy of this scope. It indicates that the internal mechanism of this scope is like all the other Lynx scopes we've tested.
It's performance at twilight was slightly down, but this is to be expected being 10 power. I don't know that it was as sharp right at the edges of the image as previous models, but it still performed very well in the field. We took it rabbit shooting late one afternoon and into the night, and the scope's performance was fine under all conditions in which it was tried. A couple of small pigs presented themselves and we were able to shoot one with the big 10x as it stood still at 90 metres, it was no trouble to place the shot right between it's eyes. It would also be a suitable choice for professional shooting for those wanting more than an 8 power. The only down side in my opinion is the slightly reduced field of view, and while this didn't hamper the scope's outright performance, after being used to using scopes with 3-4 times the field of view, I found it a bit limiting.
In conclusion, if you are looking for a 10x56 scope, and there aren't that many big fixed power scopes around, this Lynx is worth a look. Aside from its large size, its performance was stirling and I could recommend this scope to a 10x buyer.
---
by Anthony Montgomery Guns & Game, #42, April/June 2004