Precision Target Scopes From Lynx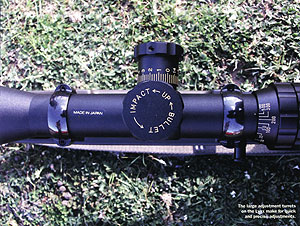 (above) The large adjustment turrets on the lynx make for quick and precise adjustments.
Getting started in long range shooting can be a daunting experience. A casual look along the line at the equipment being used will expose a number of large, complicated and expensive scopes with very high magnification.
Many of these are far from ideal for the new target shooter as they detract from learning the basic skills and are not appropriate sighting systems for a range rifle.
If there were to be a list of key criteria for long range target shooting, it would be:
* High enough magnification to see the lines on the target back to 900 metres;
* Enough elevation adjustment for 300 – 900 metre (1000 yard) zeros;
* Easy to use elevation and windage adjustment
* Clear optics; and
* Rugged, lightweight but sturdy and aesthetically pleasing.
While the first four points are self explanatory, the final point should not be scoffed at, as the scope needs not only to survive the rigours of the rifle range, including travel to and from competitions, it should also be something that the shooter is proud to own.
It is important to note that this is different to what you would want from a hunting scope where relatively low magnification and light weight are key.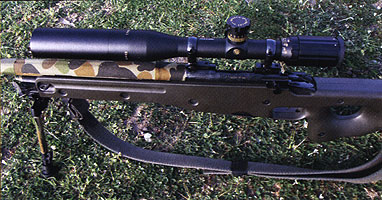 The Lynx P16x42S is designed along tactical shooting lines. This scope is suited to the requirements of the long range shooter as the high profile turrets provide easy access for quick and precise adjustments. Elevation and windage adjustments have major divisions at 1 minute increments and minor divisions at ¼ minute intervals. These adjustments are designed to allow you to establish a zero, make adjustments on the range to suit conditions and then return to your original zero at the end of the shooting session.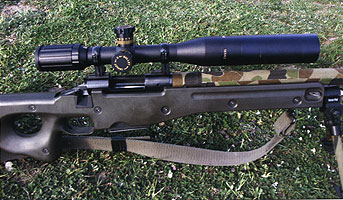 (Above) Ther Lynx P16x42 as tested on the author's accuracy International mounted Remington 700 in 6BR.
The scope comes well packed in an attractive black box and includes detailed instructions on basic mounting and zeroing. Also included are bikini lens covers to keep dust and rain out, a lens cleaning cloth and an Allen key that can be used to zero the turrets to a known range. Lens shades, in two lengths to block mirage coming off the barrel, are available separately.
The Lynx P16x42S is fitted with a Mildot reticle. The type of reticle was originally designed for military shooters to accurately measure distance based on a mathematical equation related to reticle measurement in the mils. The Mildot reticle is growing increasingly popular for target shooter due to the flexibility offered. Not only by multiple aiming points, but also the ability to quickly calculate bullet deflection and accurately aim off during each shot.
At 16 power each Mildot covers 25mm at 100 metres, while the space between each Mildot covers 100mm. In effect, this means the Mildot will measure approximately 1 minute of Angle at each competitive distance shot in Australia.
There are two schools of thought on how best to use a scope for long range target shooting; one is aiming off as described above, and the other that the shooter should adjust from a known wind zero and add or subtract clicks from shot to shot while keeping the same point of aim. Each style has it's merits and experience will help will help competitors decide which path to take.
The Lynx scope is 34 cm long and weighs in at 730 grams with mounts. The elevation, windage and side focus adjustment controls are knurled or ribbed for ease of adjustment. Lynx riflescopes are made in Japan to exacting specifications and are waterproof, shockproof and nitrogen filled to prevent fogging.
Each of the lens' surfaces in every Lynx scope is hard-coated with anti-reflective lens coating. Once the correct eye relief was established in Gun's test scopes the image was bright and clear in a range of weather conditions.
The scope body is 30mm in diameter. Lynx scope tubes are machined from aircraft grade aluminium and then anodised matte silver or black.



(above) The P10-50x60 is a heavy weight and useful addition to the range of high magnification scopes available in Australia.
The smaller profile of the
P16 x 42S allows the
shooter to see changes to
the wind flags without
moving their head;
something not always possible
with the larger
bodied scopes.
In the past Australian shooters have become used to one inch diameter tubes for their rifle scopes. While this is fine for hunting rifles, where the range of adjustment should not require much zeroing beyond 300 metres, a bigger diameter body not only allows more light into the scope and therefore a sharper image, it also allows for a greater range of elevation and windage adjustment. Fine focus is assisted with the addition of a parallax adjustment ring in front of the eyepiece.
It should be noted that an internal adjustment range of at least 35 minutes is required for a .308 Win with 155 grain bullets to reach from 100 to 1000 yards (911 metres) with no problems.
The internal elevation adjustment range offers over 90 minutes from top to bottom, and this should offer enough range adjustment without the need for a tapered base. However, to get the greatest benefit from the scope it is worth having the scope bases angled for a minimum setting of at least a 300 metre zero. This has the benefit of putting the crosshairs closer to the centre of the image, providing less distortion and a clearer image at the longer ranges. Depending on the calibre chosen for target work and the ranges shot, a scope base that has about a 20 MoA incline could prove useful.
The elevation and windage knobs tracked accurately, however the knobs do not offer an audible feedback during adjustment. This is important for target shooters, as we need to have the confidence that a scope adjustment will move the bullet impact point when and where we want it to go. There are enough horror stories on the Ranges about scopes that need to be hit with a rubber mallet or worse to settle the internal adjustments.
Lynx rifle scopes are covered by a warranty against defects in materials of workmanship for 15 years.
The test scope was mounted on a Remington 700 action on an Accuracy International chassis stock, while the barrel was chambered in 6BR. This stock is perfect for all types of positional shooting and serves as a versatile platform for testing precision equipment.
The 600-metre Fullbore target was chosen as the best test for the scope as this is a challenging range to get a good score on. The Canberra Rifle Club range is also one of the trickier places to shoot well and is an ideal venue to test equipment on.
The rifle was shot from the prone position using a Versa-Pod adjustable bipod and a rear sand bag.
The 6BR used a long-range target load of a 105 grain Lapua boat tail on 30 grains of AR2208 travelling at just over 290 fps with little recoil. Shooting heavy bullets across a variety of ranges had demonstrated the effectiveness of the 105-grain projectiles in a variety of conditions.
The Lapua 105-grain bullet has a ballistic coefficient of 0.53, which makes for a very slippery projectile. Groups with this load have ranged from three to five centimetres at three hundred metres.
During testing, the basics of marksmanship were followed with special emphasis on maintaining the sight picture, a consistent body position and stock weld. The smaller profile of the P16x42S allows the shooter to see changes to the wind flags without moving their head; something not always possible with the larger bodies scopes. The ten shots scored a 50.09.
This result backed up the findings of the 100 metre zero session that saw a three shot group measuring less than .25 inch emerge.
The 16x is perhaps the lowest magnification to use and a 20x model is also available. Nevertheless, the Lynx P16x42S fulfills the criteria needed for a shooter starting out in long range disciplines such as the NRAA's F-Class and the SSAA's Tactical Rifle.
New to the market is the Lynx P10-50x60 scope. This is a big scope made for precision shooting at a variety of distances. For example, in the UK, Field Target air rifle use this type of scope because of its ability to focus clear on close objects while on the highest magnification.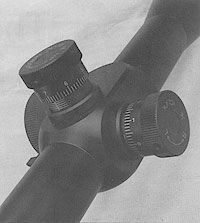 (above) The P10-50x60 has positive and reliable adjustment via its large external knobs.
This scope would meet the needs of the long range target shooter interested in a very high power scope capable of fine adjustment on small targets such as those used on the SSAA Fly and the NRAA's 1000 yard benchrest competitions.
The P10-50x60 is a true heavy weight. With a 60mm front lens and a 30mm tube, it is worth checking that there is enough clearance over the barrel when the scope is fitted. The scope weighs 1.1kg bare and can take eight and 13cm sunshades as optional extras.
The elevation and windage adjustments take 8 clicks to move one MOA. In essence, each click will move the bullet 3.5mm at 100 metres. A coil spring is used to hold the inner tube in position and maintain a zero even on the bigger calibre rifles. This is a feature not seen on similar looking but cheaper models.
The elevation turret has 36 minutes of movement which, when used in conjunction with a set of 20 – 40 degree tapered scope bases, should be enough to meet the needs of most long range shooters. Image quality is good owing to the multi-coated lenses that allow better light transmission that budget models. In certain light conditions is has been possible to see .30 calibre holes in the target during 1000 yard Benchrest matches using this model.
A Mil-Dot reticle is available for this scope but is perhaps too complicated for high magnification shooting with the simple dot and cross pattern reticle more suited for precise aiming on small targets.
Eye relief at the highest powers can be critical and the scope should be mounted on the rifle to take this into account. Unless the mirage starts running, the scope should be left at the highest power that the shooter feels comfortable with.
The Lynx P10-50x60 is a very useful addition to the ranks of high magnification scopes currently available in Australia and it should suit the needs of shooters seeking to make their mark in the world of long range shooting competition.

---
Richard Wild Guns Australia, April/June 2004