Lynx LX3 5-30x56 Competition
Brilliant Optics
See bullet holes in your target at distances over 300 metres, range conditions permitting.
100MOA Elevation Adjustment with Zero Stop
The adjustment controls are precise, each click is distinctly felt and moves the point of aim precisely 1/4MOA. The zero-stop mechanism is simple to engage and returns with absolute accuracy to your predetermined zero-elevation position. All markings on the adjustment controls are bold and highly-visible, making them easy to read even if your eyesight is less than perfect.
MOA@20 Illuminated SFP Reticle
At 20x the reticle lines subtend 2.5mm at 100m, which is fine enough for accurate shot placement without being too difficult to see, and fifteen indicator markings, evenly spaced 1-MOA apart, run along the full length of each crosswire from centre. The ranging scale inset at the top of the reticle provides a quick and accurate means of ranging a 20cm high target from 200 to 500 metres. In poor light the reticle can be green-illuminated using the eleven-step brightness control which is mounted atop the parallax wheel on the saddle of the scope.
MOA@20 Illuminated reticle (glass etched reticle)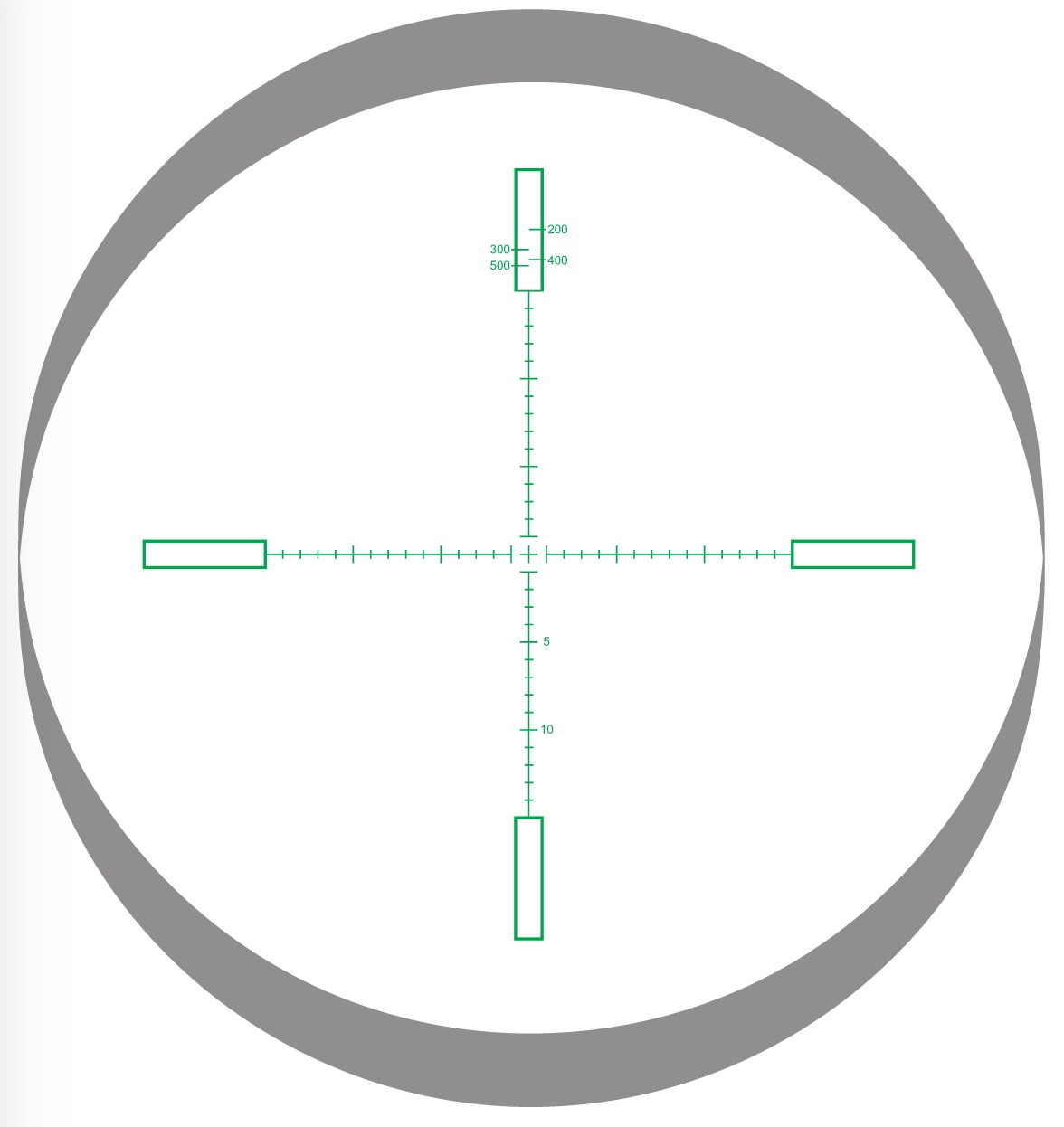 A reticle for competition shooters. Fifteen hash marks on each quadrant, 1 MOA apart with magnification set to 20x, facilitate versatile and simple aiming off points. The 2.5mm thick @ 20x reticle lines are fine enough to use for long range target shooting but are still visible with less than perfect eyesight. Depending on range conditions, distance to target and visibility the centre of the reticle can be used either in a conventional manner as a 1 MOA floating crosshair or to bracket an area of the target. An unobtrusive range scale inset into the bottom part of the 6 o'clock leg of the reticle ranges a 20cm high targets from 200 to 500 metres.
Big Easy-To-Read Controls With Highly Tactile 1/4 MOA Clicks
The number and indicators on the controls are bold and highly visible and should be easy to see even if your eyesight is less than perfect. The side-focus parallax focusses from 35 metres to beyond infinity and the illumination on the reticle is adjustable in eleven steps in intensity with off-settings between each brightness level.
Specs
Low Power
High Power
Magnification
5
30
Exit pupil diameter (mm)
8.2
1.9
Eye-relief (mm)
91
92
Actual FOV
3.12°
0.61°
Objective diameter
56mm
Total Windage adjustment range
50 MOA
Total Elevation adjustment range
100 MOA
Tube diameter
One-piece 34mm
Tube material
Black hard anodized aluminium (HV300)
Water proof
Positive internal pressure 300kPa. Submersible 1m for 60 minutes.
Recoil proof
1000G
Fog proof
Argon purged
Temperature operating range
-20 to +71°C
Reticle
Lynx MOA@20x reticle. SFP
Battery type
CR2032
Switch type
Mechanical. 11 brightness settings with "off" position between each setting
Parallax
Side focus, 50m to infinity
Eyepiece
European-style fast focus
Antireflective lens coating
Fully multi coated (Light transmission 99.7% per lens surface)
Windage / Elevation control
Tactical / Target
Windage click value
0.25MOA
Elevation click value
0.25MOA
Length
367
Weight
1 140g
Country of manufacture
Japan

---
Send mail toinfo@lynxoptics.com.au with questions or comments about this web site.
Lynxoptics is a Registered Trade Mark of Gault Pty Ltd.™.
This website is the the property of Lynxoptics©