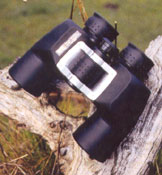 Lynx #19-1042 10x42 Binocular
This is a relatively compact Porro prism binocular that measures 130x180mm and weighs about 700 grams. Waterproof, it has BAK-4 prisms with a wide angle, 6.5-degree field of view that delivers 112 metres at 1000.
The barrels, centre-focus ring and eyepieces are all black rubber armoured for protection – the latter two having raised dots around their circumferences to provide a positive grip. The diopter adjustment is on the right ocular and is click adjustable to retain settings. Both oculars have fold-down eyecups. The interpupillary distance of the oculars ranges from about 55 to 73mm.
The front of the axis pin is screwed to accept a tripod fitting. The frame of the binocular, the axis pin, the carry strap attachments on the barrels and the ocular lens barrels have a flat, matte, chrome finish, which gives it a distinctive appearance – though I'm not sure this is a particularly desirable feature for anyone who might want to use this binocular while hunting.
The 42mm objectives give an exit pupil of 4.2mm, more than adequate for general use in a range of light conditions. The 10x rating brings everything just that little bit closer which can be an advantage in the thick stuff or across longer distances. The compromise comes in the decreased field of view.
Even so, this is a very handy binocular, it sits well between the hands and delivers clear images that are free of any distortion right across the full width of the lenses. Light transmission is excellent.
The RRP of the 10x42 is $550.
---
John Dunn - Australian Shooter, January/Febuary Edition