Lynx Series 19 8x42s Borro-Prism Binoculars: By Erin Boyd
We can safely assume that the same ethic applies to Australia and New Zealand now that Lynx Optics is soundly established in our region of the world. I asked Malcolm Gault, the Australian distributor, to end me a pair of their series 19 8x42 porro-prism binoculars (the highest grade of porros they list), for the test review. Lynx claim that these items produce the best image quality of their entire range.
Lynx offers a comprehensive line of field glasses in both porro and roof-prism designs, ranging in price from a couple of hundred to well over a thousand dollars. Apart from the reasonable price, several things piqued my interest in this particular set of glasses. They feature a rubber armoured aluminum body, they're nitrogen filled to prevent fogging, and waterproof to one metre – which means they can be used safely in rain, withstand a dunking in waist deep water, or be washed carefully in the kitchen sink (prior to the lenses being cleaned) if you've dropped them in the mud.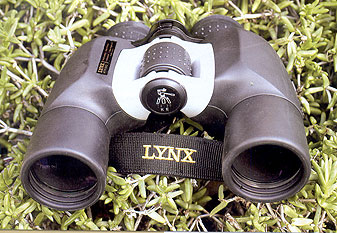 They also have the porro-prism design (of comparable standard) and will deliver better close-up three dimensional perception because the barrels are farther apart then they are in their roof-prism cousins. Some more specs: They have Barium Crown glass prisms (Bak 4) found in all quality binos, as apposed to Bak 7 (Borosilicate). Bak 4 glass is the higher quality, yielding brighter images and better edge sharpness – naturally, it also costs more.
The lens path consists of multi-coated internal and external high quality optical glass to enhance glass to enhance light transmission and increase sharpness. There are no plastic lenses in this binocular, like those used in many lower priced binoculars to cut costs. Note that the manufacturers that use plastic do not advertise the fact!
The Lynx also has a tripod socket fitted as standard, which is accessed by unscrewing the protective cover in the front of the bridge. This feature is missing on many much higher priced binos.
The field of view is 6.5 degrees, which converts to 340 feet @ 1000 yards, or 113 metres @ 1000 metres according to my calculations (1 degree is 42.4 ft @ 1000 yds). The exit pupil diameter is not given in the specs but it is easily calculated by dividing the objective lens diameter by the magnification, 42 divided by 8 = 5.25mm.
The dimensions are: 140mm high, 170mm wide and 67mm deep. The binos are actually made in Japan on behalf of Lynx.
When I opened the package the first thing that caught my eye was a good 15 year non-transferable warranty (non-transferable means the warranty applies only to the original owner). Earlier, when I'd checked out the series 19 binos on the Lynx Australia website, a five year warranty was listed. I emailed Malcolm Gault to clear up this apparent anomaly and learned that Lynx has recently extended the series 19 (plus others) to fifteen years, but that the information on the website has not yet been updated. The Lynx Service Centre is located Kenthurst in New South Wales, should the warranty ever need activating.
The total package consists of a well made black synthetic carry bag and shoulder strap, a separate wide neck strap for the binos, tight fitting front and rear lens caps, plus two micro-cleaning cloths, a small instruction manual and a bag of silica desiccant.
The binoculars are quite compact for 8x42s and fit comfortably in hand. The feel is robust and speaks of solid construction. The overall appearance is nicely streamlined and elegant with black rubber armour and a matt silver bridge that looks stylish. The weight is 690 grams. Several people who've handled them have commented on their lightness, which was also my impression.
The rubber surfaced focus wheel id large and centrally located in the bridge, with small raised knobs to provide some finger traction. Focus adjustment is very smooth with a reasonable, but not excessive amount of resistance, due mostly to O ring pressure on the external focusing eyepiece tubes – the O ring is there to provide water proofing.
The focus adjustment is quite high geared, thus its easy to overshoot the exact point and then have to do a bit of readjustment – a delicate touch is required. Other users commented favourably on the quick focusing ability. The wheel falls naturally under the middle finger when looking through the binos, which I found a little disconcerting.
With my own binos, the focus wheel falls directly under my fore-finger, which is where the rear bridge is on the Series 19 Lynx. Of coarse, its horses for courses, one gent I gave the two pairs of binos to look through automatically used his middle finger to focus both!
Diopter adjustment is on the right hand eyepiece and of the standard type for porro binoculars with a + and – scale so that it can easily reset if necessary. The diopter setting proved smooth and positive and remained stable under field conditions.
The 42mm objective lenses are set back sufficiently to provide good protection from the elements and casual abrasions. They also have a nice dark flawless green multi-coated surface that reflects little light back when viewed into. The trick here is to get the sun reflecting off your face and look down for a mirror image of your face in the objective lens. If you can see a clear image, the coating is reflecting back too much light.
Fold-down rubber eyecups are provided so that spectacle wearers can obtain a full view. In overall feel the Series 19 is ergonomically comfortable and solid, a quality binocular with no free play in any of the adjustments.
So far so good, the Lynx is a well designed and well built unit with a good price and an excellent warranty, but how do they perform in the field?
Field Testing:
My reference standards are primarily a pair of Nikon SE 8x32s, an exceptionally good porro-prism bino that optically matches or exceeds any competition I've compared it with to date, plus a pair of Minox 8x32 BD roof-prisms, a premium five year old German made bino that is also of a very high standard.
The usual test outside my house is to rest the binos on a sandbag and focus them on a TV relay station about two miles away up on the ridge. The Minox was soon eliminated from the test as the Lynx 8x42s proved to be brighter, sharper and with a similar zone of sharpness across the view, with definition falling off only in the final 10% of the field. This is not to say the Minox is bad but the Lynx binos are optically very good indeed.
The Minox series 19 Lynx also has a very similar colour rendition, very accurate and with a slight blue green bias (cyan cast) which I find decreases the apparent contrast a little.
The Nikon SEs on the other hand, appears almost completely neutral in colour rendition. They show all colours very vividly, and the rendition of subtly colour tone is superb. In fact only by critical examination is a faint reddish bias discerned (magenta cast). I find that this subtle red bias increases the apparent contrast.
In fading light the lynx with their larger 42mm objectives gained bout three extra minutes of viewing.
Minor chromatic aberration (purple fringing) was there is certain conditions but it was rare and not intrusive, and the usual pincushion edge distortion that binoculars have was within normal limits for glasses of this power. In fact it was quite good for an 8x42 binocular that is specified as a moderate range wide angle.
Next, I set up Edwards USAF chart in the shade and at a measured 30 metres from my car, on which both pairs of binos were resting (on a sandbag on the roof), I found that the Lynx resolved one line below the 1mm scale and the and the Nicons one scale below that. I guess this only shows that there are plenty of sharp binoculars now available at all price levels.
In the Field:
Finally a beautiful clear spring afternoon arrived and with my .222 BSA majestic with its 6x scope and the lynx binos for company I set out for Vernon Station after contacting Paul Leedham to see if it was ok. The rabbit population there is small but cunning, every time I go there it takes a while to locate where they are – a good pair of binos is essential as they are elusive and blend in well with the surroundings. They are educated rabbits.
The series 19 proved well up to the job with a sharp hyper focal (depth of field) distance extending from 135 metres to miles, a good, crisp, contrasty image, efficient control of flare and very good handling capabilities, plus of coarse their fairly light weight. They enabled me to spot half a dozen herbivores, some a long away off and others in dark shade. A couple of closer rabbits are now in Rabbit Nirvana.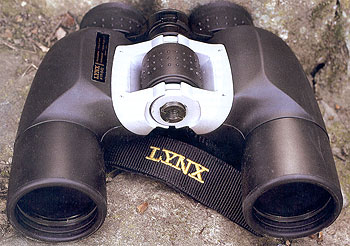 Summary:
I gave many people the opportunity to use the Series 19 Lynx 8x42s, including two who sell top line binoculars. Everyone who handled them, including the two retailers, were very impressed with the value of the Lynx offering.
If you are the type of down to earth hunter who wants a very well made binocular with excellent optics, a good warranty, and a very reasonable price then give Lynx some serious consideration. Alternatively if you are the type of hunter who likes premium (expensive) glass but wants a good backup set at a more modest cost, then these are a sound option. A recommended bino.
---
Erin Boyd - New Zealand Guns & Hunting - Issue #91 - Nov/Dec 2005