Lynx 3P 3-9x42
Looking for a sports car on a budget? There is no compromise for performance. If you want performance, you must pay. Whether it be the cost of the vehicle, or the cost of the fuel bill at the end of the day. So it is with the new 3P 3-9x42 scope from Lynx. Although it has a 30mm tube, which at first may make the scope look a bit bulky, it certainly does give it some performance. The cost is reasonable in dollar terms, but where you pay for the performance is in overall weight and bulk.
The light transmission ability of the scope is probably one of the better variable scopes I've looked through. It's field of view is quite exceptional an all powers and it doesn't run out at either the high or the low end of the power scale, as some variables can do. It has a reasonably short tube, and mounting it on a Model 70 Winchester in .270, we had to use reversible rings and close them up to give any sort of eye relief adjustment, but there is still enough room so that the scope will fit on nearly any action you want to put it on.
It has an unusual power change ring in that it is fluted for it's full circumference, and no handles or grips, except for the fluting. This works beautifully and it also adds to the trim dimension of the ocular housing, which is good to see.
The 42mm objective is not a problem and will mount on nearly any gun with low mounts. We used in this case Leupold low rings.
When it was time to target test, I chose a load of 90-grain Sierra hollow points, with 60 grains of 760 Winchester for the .270, as this load performed best when we tested the rifle. On the power change test, from 3x, to 6x to 9x, we ended up with a 6-shot group of 0.970" with five of the six shots going into 0.489". The one that was out was one of the 3x shots which probably goes to show that there is just not quite enough target definition on 3x, but it certainly does show that on this particular scope the power change has excellent consistency.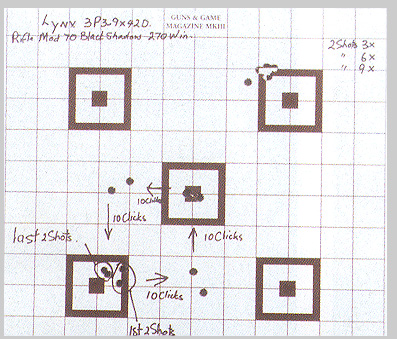 When we "walked" the scope around the target (see photo), it went almost exactly to the millimetre of where it should go and bearing in mind that I was losing light, the last two shots, although they are slightly to the left of the first two, the whole group is still well under ¾", which, for hunting purposes is outstanding.
When it came time to test this scope, we took it out under the spotlight. We came across a mob of pigs and the scope performed absolutely spot-on! Plenty of field of view on the low powers as I only used 3x and 4x and the reticle was quite bright against the field, which is exactly what is needed for low light conditions. We also shot some rabbits on dusk on another occasion and again it performed very well. In fact it is probably one of the brightest, with clearest definition 3-9 variable scopes that I've looked through, and as a game scope would be par excellence because of it's increased field of view on the lower powers and good definition on 9x.
| | |
| --- | --- |
| | The power change ring and fast focus adjustment on the lynx |
The ocular housing on the 3P 3-9x42 is 40.5mm, the objective housing is 50.2mm, there is 130.7mm of useable tube length. Overall length is 310mm, useable eye relief (from the back of the scope not the lens) on 3x is 88mm, on 6x is 78mm and on 9x it is 76mm. So if you put this scope on a heavy recoiling rifle, be sure to mount it so that the eye relief is set on 9x not on 3x.
Ocular focus is of the fast focus style, and it was easy to get good focus on all powers. In the turrets it has a click adjustment with a coin slot for easy adjusting. The scale is able to be moved around to that it can be zeroed after you've sighted your rifle in, which is good, and makes it easy when it came to do the round the target test as we just set it on zero and we ended up back on zero.
| | |
| --- | --- |
| | Turret adjustments on the lynx. Note each inch is graduated in 1/4 incrments, also the zeroed scale. |
In conclusion, if you're looking for a hunting scope with very good optics, this Lynx 3P 3-9x42D with 30mm tube should definitely be on your list, and comes highly recommended.
For more information, contact Lynx Optics, Ph: 02 9651 4820.
---
Andy Montgomery - Guns & Game - July-September 2003