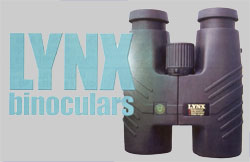 Lynx #40-842 8x42
Like the 8x40, this is a very good general purpose binocular. Of roof prism design, it measures 149x120mm, with a weight of 895 grams. It is waterproof, with multi-coated lenses, delivering a wide-angle view of 7.5 degrees or 129 metres at 1000. It has long eye relief and an exit pupil of 5.25mm , making it ideal for a broad range of light conditions.
The rubber-armoured bodies of the barrels are recessed underneath for the thumbs and ribbed on the top and along the sides to ensure a positive grip in all weather conditions.
The focusing wheel is located at the very rear of the axis pin, where it is both easy to access and comfortable to use due to it's length and location. It's rubber ribbed surface provides a very positive grip, even under wet-whether conditions.
Dioptric adjustment is provided on the axis pin by a short lever that clicks audibly as it moves and ensures the settings cant be bumped out of focus.
Instead of fold-down rubber eyecups, the ocular lenses slide out and click into place for those with normal vision or are pushed right in to accommodate people who wear glasses. It's a simple system that works well.
This is a high quality binocular that is a pleasure to use in the field, delivering a good balance of excellent optics and solid construction. These facts are reflected in it's RRP of $1050.
---
John Dunn - Australian Shooter, January/Febuary 2002