Looking Into Lynx Binoculars
| | |
| --- | --- |
| | |
| A selection of the Lynx range of binoculars. | The hard case which accompanies most models. |
Lynx scopes have been making something of a name for themselves in recent times with a range of surprisingly good quality scopes at very reasonable prices.
The scopes we have tested through the magazine have exhibited clarity and performance that we have come to expect from much more expensive scopes. The precision and repeatability of their click adjustment mechanisms, the image quality, combined with generous eye- relief and overall good looks make Lynx a desirable scope.
To add to this range, Lynx are now offering a very large selection of binoculars through their Australian distributor, Lynx Optics of Granville, NSW. This range starts from the highly portable 8x21mm mini binoculars through to the 12x50mm full sized models and includes some interesting zoom binoculars which have variable power settings, much like the variable power scopes.
In Australia, the Lynx range consists of ten models. The smallest model, the 8-21s are a roof prism binocular of miniature proportions. They are rubber armoured, have central focusing and are easily adjusted to suit the width of your eyes. If you're like me, you will probably have seen or looked through a very similar looking binocular to these from a different manufacturer, and declared them rubbish. They probably were. Made of plastic, I don't even think they had glass lenses as the whole unit weighed as much as the wristwatch on your arm... Well the Lynx binoculars have some weight to them, and all the controls and moving parts are nice and stiff so they stay where you put them. They also fold to nothing, about the size of a packet of cigarettes.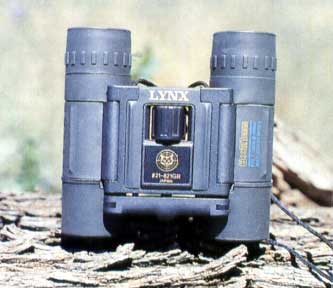 The Lynx 8x21mm - a quality, highly compact model.
The 8x21s are likely to be one of the most compact, decent quality binoculars on the market that would be suitable for hunting. They have limitations, because of their small size they are the first to lose the light when it gets dark, but you cannot transmit large amounts of light through 21mm lenses, so it's a compromise between image quality in poor light and compactness. The multi-coated lenses offer a surprisingly sharp and bright image, especially considering the size of the lenses. For many applications, particularly where the emphasis is not on dusk and dawn, these little binoculars would suit well. The 8x21s come with a soft carry case.

Next up in size at least, we are looking at the 7x35mm wide-angle porro prism model with central focus and a tough rubber exterior. As a general hunting binocular, I don't know where you'd go to get better quality for less.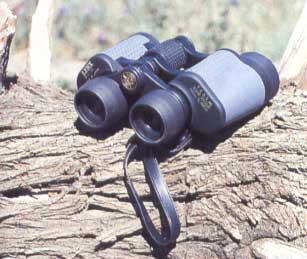 Lynx 7x35mm WA binoculars are a good choice for general hunting.
Also in the wide angle design are the standard 10x50WA and 8x40WA models, and the 8x40WA with long eye- relief for spectacle wearers. There is the 12x50WA model which is very sharp to look through and is finished with a two tone rubber covering. In fact, of all the wide angle range, these would make a good choice for a hunting binocular, giving adequate magnification (depending on your needs and choice of model) with excellent field of view and good low light performance.
I-focus binoculars are those that have no external focusing adjustment. In fact, they have no external focus at all, not even the eyecups, but everything from about 15m to infinity is perfectly sharp. The Lynx 10x50 wide angle I-focus model is rubber coated and quick to use. Every time you look through them they are focussed. These binoculars have fully coated optics.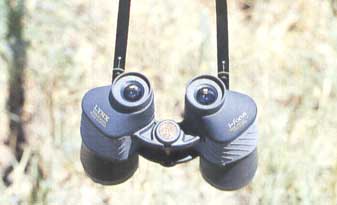 The Lynx I-Focus binoculars. With no focus, these are super quick to use.
Lynx also produce an interesting zoom binocular. There are two models in this line, a 7-15x35mm and 8-20x50mm, both are of porro-prism design and both have two-tone rubber covering most of the external surfaces. These operate well in low light and have good field of view performance at lower powers, yet still allow target definition and assessment at the higher powers. Sounds like the ideal binocular, however, the field of view is not as great at any power as the equivalent fixed power model and image quality seems to diminish at the highest power magnification. They feature central focussing with individual eye-cup adjustment (one side) and the 8-20x50mm model is no heavier than a regular 12x50mm WA. The magnification is increased via a lever under the eye-cup on the right hand side as it moves through a 90° arc. These models also have fully coated lenses.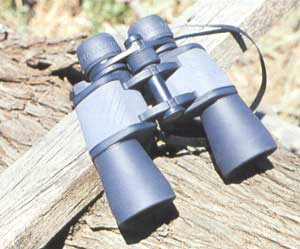 The Lynx zoom binoculars allow for different levels of magnification for different conditions.
Perhaps the most impressive model in the Lynx range is the 7x42WA. This model features roof prism design, which means the tubes are much straighter and don't feature the traditional "dog-leg''. They are also Waterproof, rubber coated and somewhat heavier than all other models. This model is beautifully sharp and also has very good low light performance. The 7x42WA features an adjustable nylon webbing carry strap and central focus, and would be the first choice for the all-weather hunter.
| | |
| --- | --- |
| | |
| Using the lynx 7x42WA roof prism binoculars to search for pigs on lucerne in the early morning. | The Lynx 7x42WA waterproof binoculars. Author found this the best model in the Lynx range that he has viewed, with sharp optics and good low light performance. |
Overall the Lynx range is an impressive one which offers innovation and quality, and most models are very competitively priced. All come with either a soft, or mostly stiff transport case, they are Japanese made and come with a five- year warranty. Considering their general field performance combined with these additional features, the Lynx package is a very attractive one.

---
Breil Jackson - Guns & Game April-June, 2000