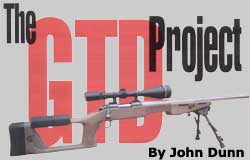 The GTD project rifle is one of those things in life that wasn't really planned. It just happened - Evolving throughout a period of time and finally, to the relief of everyone involved, becoming a reality some considerable distance down the track.
It begins as a series of discussions spread over several gun shows at Penrith with Malcolm Gault. Malcolm is best known as the importer of Lynx products – a range of value-for-money scope, scope mounts and binoculars that have made their mark on the Australian market during the past few years. He also imports other shooting-related products, among them the Choate line of synthetic stocks.

Essentially Malcolm was looking for a vehicle to promote the stocks and asked if I would be interested in writing them up. I am always looking for work but rather that do a plain-Jane review of the stocks, I thought it would be better to build up a rifle and present the results as a complete product. The concept grew and before Robert Tobler of RDT Products had been drawn into discussions to make a barrel and set it up in an appropriate action. The GTD project rifle was on it's way – the name drawn from the surname initial of the principals involved. From the very start we decided there were a number of criteria the rifle would have to meet. First and foremost, it would have to be capable of MOA accuracy or better to make it commercially viable as a finished product. Second, it would have to serve as an appropriate way of presenting the component parts involved: the Choate stocks, the Lynx scopes and mounts, RDT barrels and Robert's gunsmithing skills. Finally, it would have to be available in a range of calibres to meet the demands of the different people who might be tempted to buy such a rifle. On that basis, we went ahead with the project, knowing that the styling of the stocks would probably limit the appeal of the rifle to range shooters looking for something a bit different or to dedicated long range hunting enthusiasts. It was to be a specialist's rifle, for those people who like to sit back and shoot at small targets, varmints or bigger game with an accurate rifle they know will deliver the goods.
| | |
| --- | --- |
| | The GTD Set-up in the sniper stock, complete with Lynx scope, mounts and Harris bipod. |
Choate Stocks
Choate stocks are made in the US by Choate Machine and Tool Inc at Bald Knob in Arizona. Two stocks were provided for the GTD project – an Ultimate Sniper and an Ultimate Varmint. Both were designed by Major John Plaster (US Army retired) a noted soldier and shooter with extensive experience in accurate long range shooting.
Both stocks are mouled from DuPont Rynite SST-35 polymer, a synthetic material ideal for rifle stock construction where weight isn't a limiting factor. CNC-machined aluminium blocks are moulded into each stock to provide a stable base for seating the action – an important first step towards accuracy. The blocks are pillar bedded, which means the receiver can be tightened securely into the stock without any fear of crushing or warping. Allen key action screws are provided with each stock.
Both are made to suit a limited number of action types – Remington 700 long and short actions in ADL and BDL models, the Savage 110, and the current Winchester Model 70. Left-handed stocks are available. The stocks have an angular, no nonsense look about them that undoubtedly reflects John Plaster's background.
| | |
| --- | --- |
| | Butt Stock of the new sniper stock showing spacer arrangement on butt, adjustable and reversable screw on cheekpiece and arangement screw on the bottom flat stock. Notice also the side mounted sling swivel. |
| Serrations in the bottom of the sniper stock prevent it from slipping on hard surfaces. Notice the cover in the bottom of the pistol grip. This can be removed and the hollow grip used as a storage area | |
They were designed to be fired from a stable rest, with or without bipod attached, preferably from the prone position. Appearance-wise, the stocks are quite different – as the photographs show more clearly than I can explain. Even so, they have a number of common functional features. Triggerguards are moulded integrally with the stock and each stock has a characteristic squared butt fitted with an adjustable rubber recoil pad. The minimum length of pull is 13" (33cm) and is adjustable outwards via 12mm spacers fitted between the butt and the recoil pad.
The butts are scalloped out for weight reduction, each having a flat bottom with heavy serrations to stabilize the rifle when shooting from a rest. An adjustable screw is fitted to each stock for fine-tuning elevation when the rifle is set up but can be easily removed if not required.
The pistol grip is hollow, fitted with a removable cover plate at the bottom. The grip can be used to store spare ammunition or cleaning gear or to insert lead weights to balance the rifle should the shooter feel the need. The grip on the Varmint stock is smooth while that on the sniper is heavily stippled.
Screw-on cheekpieces are supplied with each stock. Two heights are available to suit standard or high mounts according to the objective diameter of the scope mounted on the rifle. The cheekpieces can be moved backward or forwards to suit individual requirements – there are six positions available – or turned around to accommodate left-handed shooters.
| | |
| --- | --- |
| | Fore-end of the varmint stock showing the sliding T-rail for attaching accessories such as a pipod. |
The forearm on the Varmint stock is quite conventional in design, albeit a little heavy in appearance. It is quite wide and flat, tapering upwards toward the tip with a serrated bottom on the forward section. It is fitted with an Anschutz-type T-rail for mounting accessories such as a bipod.
The Sniper forearm has a more radical appearance, again reflecting the military, tactical or police requirements the stock was designed to meet. In front of the trigger guard the stock is deep and square in section. The mid section is not quite as deep, with a heavily stippled surface for grip.
The very forward section is the thickest and deepest part of the forearm. There is a flat section at the back with a serrated bottom about 5cm long. This slopes upward towards the forearm and is fitted with a T-rail as per the Varmint stock. As ungainly as it might appear to be, the design is entirely practical point of view. The flat section allows the rifle to sit on a stable surface without fear of tipping over. The angled section provides an instant means of elevating or depressing the muzzle of the rifle simple by moving the stock backwards or forwards over a rest. Slots are provided in the forearm tip for the attachment of camouflage material. Side mounted sling swivels are fitted on both sides of the stock front and back. Overall the Choate stocks are well made and present themselves as quality products with specialized features and applications.

Lynx Optics
Lynx Optics need no introduction to readers. In the past few years I've had the pleasure of reviewing a number of these scopes and binoculars and have always found them to be exceptional value for money.
For the GTD Ultimate, Malcolm Gault produced two scopes as possible contenders – a P6-24x42 DT and a P6.5-25.50 DT. Both are from the professional custom series.
The P6.5-25x50 DT was chosen as the test scope, simply because it happened to be the biggest. Of monotube construction, it is from aircraft-grade aluminium with a matte black finish. The 50mm objective lens is designed to deliver maximum light transmission and is adjustable to provide a clear view of the target at all ranges from about four metres to as far as anyone is likely to want to shoot – depending on the power setting selected.
At first glance, the objective lens gives the scope a front heavy look but the images fully coated optics delivered soon put paid to any doubts shooters might have about it's design. Edge-to-edge clarity is very good under all light conditions.
With an overall length of about 38cm, the scope is quite large and while it would look out of place on a smaller rifle, it fitted to the GTD rifle like it was made for the job. With its 25.4mm tube it sits readily into a high set of standard mounts. Turrets are coin slotted for easy windage and elevation adjustments, each click subtending ¼" at 100 yards (90 metres).
The sample scope was fitted with a range finding reticle. This system looks a little cluttered at first but after reading the explanatory material that comes with the scope it's easy enough to understand.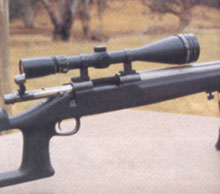 Overall, it does offer serious shooters some advantages that may not necessarily be appreciated by all. A similar scope with duplex or dot reticle and target turrets is available in the Professional range of Lynx scopes for those who prefer more traditional optics.
The power ring is grooved for easy changes with a thumb block provided to facilitate a good grip. Ring movement is smooth and just tight enough to ensure the integrity of the power setting chosen isn't easily altered or bumped out.
The ocular bell has a diameter of about 38mm and is adjustable for individual eye relief via a fine thread and locking nut between the front edge of the bell and the power ring.
Exit pupil varies from a high of 7.7mm on 6.5x to a low of 2mm at 25x.
Overall the 6.5-25x50 is a well presented product that displays all the qualities of fit and finish that Lynx scopes are being recognised for.

The Barrel, Action and Mounts
The choice of calibre for a new rifle is always a matter for serious consideration and it was no different with the GTD.
We wanted a calibre that was good enough for distance shooting on the range and in the field - something that would be equally efficient on both targets and game. In the end it was a fairly easy decision. We settled for the .308 Winchester Though it's been around forever, the .308 remains a very efficient and accurate target round; one that is routinely shot out to 1000 metres in big bore and benchrest matches. On game, it is capable of humanely taking animals of all sizes up to and including buffalo.
| | |
| --- | --- |
| | Chambering the barrel |
There is plenty of good factory ammunition available and an excellent range of powders and projectiles for landholders looking to develop custom loads for specific purposes. Finally the .308 is a calibre that most people can shoot well; it doesn't have the bark of some higher velocity numbers and recoil is tolerable for the majority of experienced shooters.
Accordingly Robert set about making a stainless steel barrel rifled 1 in 10 to stabilise bullets up to about 180 grains weight.
As noted earlier, the Choate stocks are made to accommodate only a small selection of action types. Robert had a number of Remington 700 rinses in stock and in due course one was stripped for its receiver and trigger group. With the barrel gone the trigger was removed and the action cleaned thoroughly, it was then set up in a jig on the lathe and the face of the receiver was squared up. From there it was onto another jig so the locking lugs could be lapped true and square.
The new barrel was then set up and screwed to fit the Remington receiver before being faced off and chambered. Finally the headspace was set and everything was polished before final assembly.
Initially, Weaver rings and bases were fitted to the receiver. The rifle was then assembled on the Varmint stock and the P6-24x42DT scope was fitted and bore sighted and the trigger adjusted before its first trip to the range.

Range Testing
Robert ran the barrel in using some assembled handholds he had in the cupboard and initial results showed a lot of promise.
Even in the early stages the rifle showed it was easily capable of shooting MOA and with a little perseverance results were expected to improve.
Unfortunately the real world and daily workloads interfered with the project soon after and the ridge was handed over to me to finish the process. I was in a similar situation and for several long months the project effectively stalled, though I was able to do some limited work with the rifle and the results were good.
The best three-shot group I managed ran just a tad more than 12mm, the worst just more than 25mm, with the average about 17mm using Robert's handholds. I also learned that the ridge was very awkward to handle over a standard rest, a bipod was needed off the bench and that it really was better shot prone.
It was some months before I was able to get back to the range. By then I'd managed to pick up a Harris bipod for the ridge. I'd also removed the Weaver rings and base, replacing them with a two-piece lye base and rings supplied by Malcolm, With the bipod in place and the butt stock cradled by a thin sandbag, I began to put the GTD through its paces Initial sighting was done at 50 metres using Winchester 1509n factory loads. The targets were then shifted out to 100 metres, the necessary elevation adjustments made and testing began in earnest. Groups were limited to three shots. The ammunition consisted of two different factory loads I had in stock: a couple of hunting handholds that had worked for me in other .308 rifles and the remainder of Robert's landlords.
The results were very much in line with my earlier efforts but easier to achieve given the utility of the bipod. The worst group I obtained was with PMC 150gn factory loads. It measured 32mm and some of that dispersion has to be down to me getting used to the trigger. The Winchester factory load with a similar bullet weight came in at 23mm. For hunting ammunition, I regard those results as pretty damn good - especially when you consider the barrel was rifled 1 in 10 for heavy bullets.
My handholds using Sierra 180gn spitzers and Hornady 180gn boat tail, interlock soft Points grouped 19 and 20mm, respectively.
That's sub MOA using hunting bullets - very good accuracy no matter how you look at it.
The first group using Tobler landlords of 165gn Hornady coattail soft points went into 12mm. I looked at it, liked what I saw then proceeded to shoot two more. The results didn't change by any more than. 5mm.
A11 the talking, planning, plotting and persistence had finally paid off. Much as shooter we'd expected it would be, the GTD was a shooter.
On that basis I decided to go no further with load development. Tighter groups would have been nice and looked good in this write-up but ultimately would have been extraneous to what we'd already achieved - a rifle that was capable of better than average accuracy. Discussions with both Robert Tobler and Malcolm confirmed my decision. Anyone who bought a GTD rifle would do so expecting to work up loads for him or herself. We'd proved the ridge would shoot MOA without too much effort. Fine-tuning should be left to individual owners.
Even so, there was still some work to be done. In line with the stock's varmint designation, the next step was to test fire the rifle prone - the shooting position the stock was originally designed for. It was an interesting exercise for a walkabout hunter like me, who usually works with nothing more sophisticated than the nearest natural rest I can find.
At 100 metres the rifle easily grouped the same range of loads into 25mm groups or better - including the PMC load that had dragged its tail in initial testing off the bench. It was a warm morning and the heat mirage coming off the ground made the targets swim and almost impossible to hold on. Reducing the magnification to 10x solved that problem and when the last shot had been fired, the overall results were as good as those off the bench.
The final shooting was at 200 metres off the bench. Again mirage was a problem and the first group I shot blew out accordingly I played with the power settings, eventually i settling on 16x as the most appropriate under the prevailing conditions. From there everything went smoothly. When the targets were examined, the worst group measured 65mm - the group I'd shot before winding back the power rang All the others - four in total - went below 50mm, the best one into a very nice 35mm.,
That group was shot with Winchester Palma Match 155gn factory loads.
| | |
| --- | --- |
| | 35mm at 200 metres from the bench using Winchester Palma Match 155gn factory loads. |
Overview
To say I was pleased with the results the gird produced would be something of an understatement. As a hunted I know that any rifle capable of producing minim groups or better at 100 metres using factory ammunition is more than adequate for most of the hunting I'm ever likely to do. Smaller groups are nice" but not always necessary.
Malcolm Gault shared my enjoyment satisfied that the project had more than adequately showcased the potential of his stocks, optics and mounts.
Robert Tobler was a little more laid back.
The rifle had showed it was capable of achieving what we set out to do, but as a benchrest shooter he thought (read expected) it would do a lot better with some careful load development. We took that as a vote of confidence.
Having recorded all of this, I'd like to make a few more observations about the GTD that are relevant to anyone who might be considering a rifle like this. First and foremost, it must be stated that the GTD In either the Varmint or Sniper stock is not a walkabout rifle. Yes, it can be slung and carried but not all day as a hunting ridge. It's just too damned heavy to be carting all over the countryside.
Its forte is deliberate shooting work - benchrest, fly or egg shoots on the range, sit and wait hunting or varmint work in the field. Professional shooters would no doubt find it more than adequate for their specialist requirements as well - especially when shooting from a vehicle.
The weight factor was however a plus with the test rifle. Felt recoil in the. 308 was negligible. In some of the smaller calibres favored by varmint shooters it would be even less - though hearing protection remains mandatory.
Finally regardless of make, the scope chosen for a rifle such as the GTD should be a variable, preferably one with an adjustable objective. These two features allow a shooter to dial up a clear image every time, especially under summer conditions when mirage becomes a major problem with the combination of longer ranges and high-end magnifications.
The GTD will be available as a basic barrel, action and stock with a starting price of $2495.
A package offering Lynx mounts, bases and a scope will also be available, as will a range of other options such as stainless receivers, a choice between ADL or BDL actions and aftermarket Jewell triggers.
All inquiries about the GTD rifle should be addressed to Robert Tobler.
---
John Dunn - Australian Shooter, April 2003 Edition