Lynx Red Dot Scopes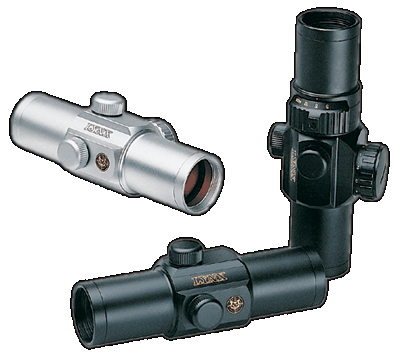 Lynx Uni-Dot red dot scopes.
Non-magnifying red-dot scopes are the ideal aiming system for use on running targets and on dangerous game. Target acquisition is virtually instantaneous and tracking of moving bodies is unmatched by any other system.
The scopes are usable by day and night on rifles handguns and dart guns, allowing one-eyed and two-eyed aiming techniques. For distances up to about 125 metres the small dot versions (three and four MOA) are also eminently suitable for general bushveld hunting.
Lynx red-dot scopes can be mounted at any desired distance between 5cm and 30cm from the aiming eye; the dot is switchable over eleven brightness levels to suit ambient conditions; the scopes are recoil proof for the biggest hunting and handgun calibres. Weaver type rings are included.
Key Benefits:
Virtually instantaneous target acquisition.

Easy tracking of moving targets.

Day and night use.

One or two eyed aiming.

Useable to extremely close range.

Non-critical eye relief.
Models
| | | | | | |
| --- | --- | --- | --- | --- | --- |
| Model | Power | Objective | TubeDia | Finish | Reticle |
| Uni-Dot | 1x | 33mm | 33mm | Matt black or silver | 10 MOA dot |
| RDC-1 | 1x | 30mm | 38mm | Matt black | 4MOA Dot |